Dual Monitor Setup
CompuHost utilizes the "Dual Monitor" support available within Windows XP/Vista and most modern Video Adapters to allow for two separate displays, one for the Host Screen, and the other for the Performer Screen.
PLEASE READ! Unfortunately, in most cases, our Support Team will be unable to offer assistance in the setup of Dual Monitor support other than what is included here. This is due to the fact that setup procedures differ among video adapter/computer manufactures. It is HIGHLY recommended that you consult the User's Documentation and/or Support Resources of your applicable Computer/Video Adapter for specific instructions related to your Computer/Video Adapter.

To function properly, the following requirements must be met...
Windows XP Pro/Home/ Windows Vista 32

Video Adapter (Video Card) that supports Dual Monitors, must have a second VGA port, RCA port, or S-Video port. (Cable adapters, S-Video to RCA etc. may be required for proper cabling to your selected Secondary Monitor/TV)

Second Monitor or TV properly cabled to the secondary video port. (Please reference the documentation associated with the second monitor or TV for proper input mode selection, Composite, Video 1, Video 2, S-Video etc.)

Dual Monitor support must be activated and configured within Windows XP.

Activating and configuring "Dual Monitor Support" within Windows XP.
This procedure outlines the TYPICAL steps involved in the setup and configuration of Dual Monitor Support on Windows XP (Windows Vista may differ). Since video adapters and procedures vary greatly between manufactures, your specific setup screens and procedures may vary. It is recommended that you consult your Computer's and/or Video Adapter's User Documentation and/or Support Resources for specific setup instructions pertaining to your applicable hardware components.
On the Start menu, point to Settings, and then click Control Panel.

Double-click the Display icon.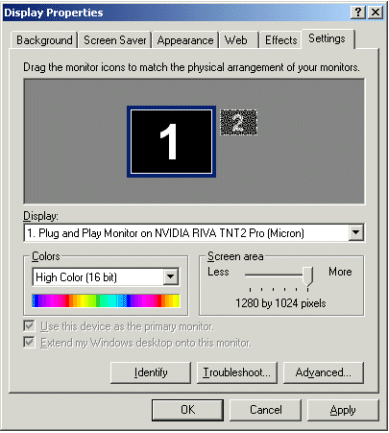 On the Settings tab, click the image of the monitor you want to use as the primary monitor.

Select the Use this device as the primary monitor check box.
This automatically selects the Extend my Windows desktop onto this monitor check box for this monitor.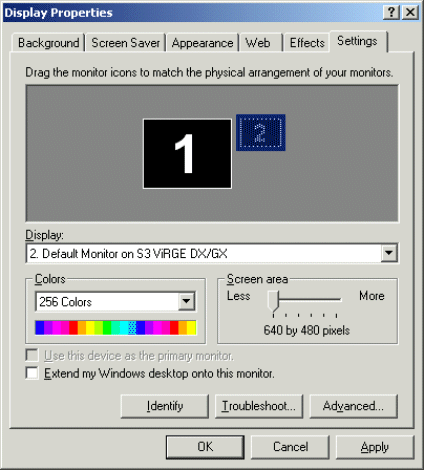 NOTE: If the secondary monitor remains "grayed out" and unresponsive, the second monitor/TV is not recognized by Windows XP. Recheck the cabling and mode selection of the second monitor/TV.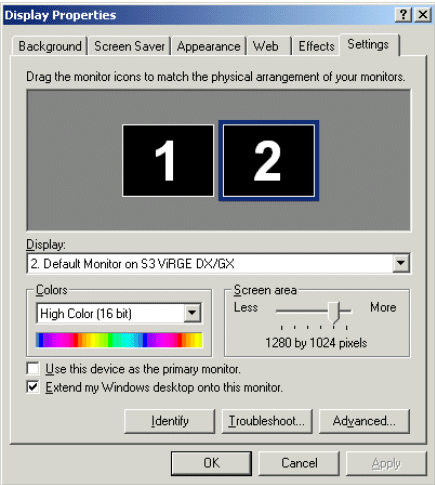 If all went well, you should see the Extended Windows Desktop displayed on the Second Monitor/TV. If not please recheck your setup and repeat the above procedure.
Possible Reasons Why You Don't See the Display....
Dual Monitor Support NOT Activated (Repeat the above steps)

Second Monitor NOT Cabled Properly (Refer to the User's Documentation associated with your specific Video Adapter and/or Second Monitor/TV for proper cabling procedure.)

Second Monitor/TV NOT Set to the Proper "Input Mode" (Second Monitor/TV must be set to the proper input MODE, Video 1, Video 2, S-Video etc. Refer to the User's Documentation associated with your Second Monitor/TV for proper MODE Setting Procedure.)